Archive for September, 2010
Posted: September 26th, 2010
at 10:28pm by Koookiecrumbles
Categories: art
Comments: No comments
Three-part observational documentary series which explores life at the sharp end of one of the most extreme urban environments in the world: Lagos, Nigeria. Today, more than half the world's population live in cities, and this eye-opening series shows what life is really like in some of the toughest parts of the world's fastest growing megacity.

The first episode uncovers life in the Olusosun rubbish dump. Here, around 1000 people live on top of the rubbish in houses built from scrap. The film follows the daily lives of two men who have become skilled at turning rubbish into gold. Eric, aka Vocal Slender, is a musician, and every bit of scrap he finds brings him one step closer to his dream of launching his music career, but a serious fight nearly ruins his chances.

Joseph is a trader who works hard to provide for his wife and two small children, and who has filled his house with things he has found on the dump. 'If there was a bigger, dirtier, stinkier dump where I could earn more money for my family, then I'd go there to work,' he says.

With extraordinary access to some of the poorest parts of town, the series celebrates the resilience, resourcefulness and energy of Lagos's 16 million inhabitants, and shows how successfully many of its slum dwellers are adapting to the realities of the world's increasingly extreme urban future.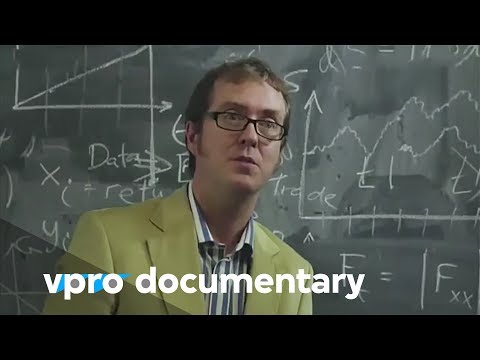 Quants are the math wizards and computer programmers in the engine room of our global financial system who designed the financial products that almost crashed Wall st. The credit crunch has shown how the global financial system has become increasingly dependent on mathematical models trying to quantify human (economic) behaviour. Now the quants are at the heart of yet another technological revolution in finance: trading at the speed of light.

What are the risks of treating the economy and its markets as a complex machine? Will we be able to keep control of this model-based financial system, or have we created a monster?

A story about greed, fear and randomness from the insides of Wall Street.

VPRO Backlight 2010

Director: Marije Meerman
Research: Gerko Wessel
An interesting phenomenon seems to be emerging: ultra-hyped projects are turning out to be crap. I am, of course, speaking ofAHaystack andADiaspora (you should follow these links, I am not going to go over the ground they cover, much).

The pattern here is that some good self-promoters come up with a cool idea, hype it up to journalists, who cannot distinguish it from the other incomprehensible cool stuff we throw at them daily, who duly write about how it'll save the world. The interesting thing is what happens next. The self-promoters now have to deliver the goods. But, for some reason, rather than enlisting the help of experts to assist them, they seem to be convinced that because they can persuade the non-experts with their hype they can therefore build this system they have been hyping. My instatheory[1] is that it'd dilute their fame if they shared the actual design and implementation. They've got to save the world, after all. Or we could be more charitable and followACialdini: it seems humans have a strong drive to be consistent with their past actions. Our heroes have said, very publicly, that they're going to build this thing, so now they have a natural tendency to do exactly what they said[2].

But the end result, in my sample of two, is disastrous. Haystack has completely unravelled as fundamentally flawed. Diaspora seems to be deeply rooted in totally insecure design. I hope I am preaching to the choir when I say that security is not something that should be bolted on later, and that the best way to do security design is to have the design reviewed as widely as possible. In both Haystack and DIaspora's cases that could, and should, have been a full public review. There is no excuse for this, it wastes a vast amount of enthusiasm and energy (and money) on ultimately destructive goals.

I don't have any great ideas on how to fix this, though. Yes, reporters getting expert assistance will help. Many of the experts in the security field are quite outspoken, it isn't hard to track them down. In Diaspora's case, perhaps one could have expected that Kickstarter would take a more active role in guidance and mentoring. Or if they already do, get it right.

Natural selection gets you every time.

BTW, if any journalists are reading this, I am absolutely happy to take a call to explain, in English, technological issues.
Pele doesn't strike me as a religious experience, then. He strikes me as a comedy, or better, as a comedian: not as a stand-up comic or a satirist, but as the opposite of a tragedian, the author of the kind of classical comedy that always ends with a wedding, the kind that revels in turning the order of things upside down so that it can give you the giddy satisfaction of seeing them turned right-side up again. This kind of comedy is in the business of reconciliation: The king turns out to be wise, the lovers love each other, and the villains reveal themselves to be failures, however things look for a while. When Titania is in the forest with Bottom, everything is wonderfully backwards: The queen of the ideal is enslaved to clumsiest physicality.66 A Midsummer Night's Dream is a little like soccer, come to think of it. Then Puck flies through, Pele scores his goal, and all the faculties go back to their right places. It has no effect on the real world, or on whatever moves in the dark, and if the real world is a place of despair, then the most it can do is to keep despair at bay. It's rigged, like all art, and it feels like a game because it is a game. But there are worse things than keeping despair at bay. The terrible thing about happiness is that it can't answer any questions. But when it comes, you don't need it to. And when it goes, well, what would you want it to say?
Posted: September 26th, 2010
at 10:12pm by Koookiecrumbles
Comments: No comments
Posted: September 26th, 2010
at 2:44pm by Koookiecrumbles
Categories: whips
Comments: No comments
The Detroit River circa 1910. "Sinking cast section of Michigan Central Railroad Company tunnel." Detroit Publishing Company glass negative.
Posted: September 26th, 2010
at 12:56pm by Koookiecrumbles
Categories: art
Comments: No comments
Haze hugged the southern face of the Himalaya in mid-December 2009. The Moderate Resolution Imaging Spectroradiometer (MODIS) on NASA's Aqua satellite captured this true-color image on December 14. Credit: NASA/Goddard/MODIS