Archive for the 'trade' Category
Two Norwegian day traders who hoodwinked a trading system in the US for their own financial gain, have been handed suspended prison sentences.

The Norwegian traders, Svend Egil Larsen and Peder Veiby, were handed suspended prison sentences and fines for market manipulation after outsmarting the trading system of Timber Hill, which is a unit of US-based Interactive Brokers.

The two men managed to work out how the computerised system would react to certain trading patterns. This allowed them to influence the price of low-volume stocks for their own gain.
Posted: October 17th, 2010
at 7:51am by Koookiecrumbles
Comments: No comments
The race to accelerate Wall Street trading has moved underwater. Hibernia Atlantic today announced plans to build a trans-Atlantic submarine fiber optic cable that will provide faster connections between New York and London than any available today. A Hibernia said the new Project Express cable will provide high frequency traders with latency of under 60 milliseconds between New York and London, faster than the current top speed available on the fastests trans-Atlantic cable, Global Crossing's AC-1. The first phase of the new build will run a cable from the county of Somerset in the UK, to Halifax, Canada where it will connect with Hibernia's current low latency cable from Halifax to New York. The build is projected to be completed by the summer of 2012. AProject Express will be the first trans-Atlantic cable build in nearly 10 years, following the dot-com era overbuilding of 1998-2001, when seven new submarine cable routes were built. Pricing collapsed, and trans-Atlantic bandwidth remains among the lowest available. But Hibernia clearly sees an opportunity in the demand from the high frequency trading market, where a difference of microseconds can offer a competitive advantage.
If you've spent the last 5, 10, or 20 years enjoying the fruits of a blissfully unregulated financial system that created wealth for its adepts but nothing for the American people, then surely you're steamed at the big regulatory overhaul that passed in Congress this summer. But there's still something you can do: move over from the stringently monitored world of banking to the somewhat less monitored world of hedge funds. We spoke to an actual big-shot hedge-fund manager to pick up tips on how you too can start the rogue finance shop of your dreams.
Posted: September 29th, 2010
at 1:41pm by Koookiecrumbles
Comments: No comments
Prediction Markets are an implementation of the broader concept ofACollective Intelligence. In general, Collective Intelligence is an intelligence that emerges from the shared knowledge of individuals which can then be used to make decisions. With Prediction Markets (PM), this intelligence emerges through the use of market mechanisms (buying/selling securities) where the pay out depends upon the outcomes of future events. In short, the collective is attempting to predict the future.

Prediction Markets should be familiar to us because a stock market is really just a forum for making predictions about the value of some underlying security. Participants buy and sell shares in a company, for example, based on information they feel is relevant to the future value of that company. A security's price is an aggregated bit of information that is not only a prediction about the future, but is also new information from which more predictions can be made. That last part is important because prices are information that cause participants to act in a market.
Posted: September 26th, 2010
at 10:36pm by Koookiecrumbles
Comments: No comments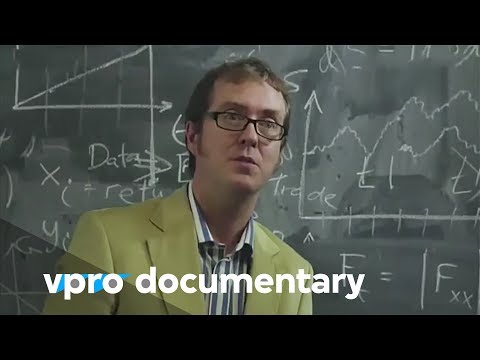 Quants are the math wizards and computer programmers in the engine room of our global financial system who designed the financial products that almost crashed Wall st. The credit crunch has shown how the global financial system has become increasingly dependent on mathematical models trying to quantify human (economic) behaviour. Now the quants are at the heart of yet another technological revolution in finance: trading at the speed of light.

What are the risks of treating the economy and its markets as a complex machine? Will we be able to keep control of this model-based financial system, or have we created a monster?

A story about greed, fear and randomness from the insides of Wall Street.

VPRO Backlight 2010

Director: Marije Meerman
Research: Gerko Wessel
If China is trying to give its manufacturers a leg up by restricting exports of rare earth metals, it may find the advantage temporary.

With prices spiking following the latest in a series of annual export quota reductions by Beijing earlier this summer, miners have been scrambling to develop deposits of the essential industrial minerals worldwide. Now Japan's Nikkei business daily reports that Japanese manufacturers have developed technologies to make automotive and home appliance motors without rare earth metals. Hitachi has come up with a motor that uses a ferrite magnet made of the cheaper and more common ferric oxide. Meanwhile the chemicals conglomerate Teijin and Tohoku University have co-developed technology to make a powerful magnet using a new composite made of iron and nitrogen.
When you want to look up information on publicly traded companies, it helps to know the ticker symbol. Microsft's ticker isAMSFT, Google's ticker isAGOOG, Apple's ticker isAAPL. Every publicly traded company has a ticker.

But private companies don't have tickers. And as more and more private companies are attaining status and drawing the attention of mainstream media and the investment community, it is time for that to change.
A little-noticed lawsuit says a lot about how investments are marketed. ALate last month, Select Sector SPDR Trust sued Invesco PowerShares for trademark infringement. The suit alleges that by using similar trading symbols, or "tickers," to those of the Select Sector SPDR exchange-traded funds, PowerShares dealt "damage to the value" of its competitor's offerings. AIn April, PowerShares introduced nine sector funds based on components of a Standard & Poor's small-stock index. The SPDR family already had nine sector ETFs of its own pegged to the bigger stocks in the S&P 500 index. Each SPDR sector fund has a ticker beginning in "XL." For its new funds, PowerShares chose tickers that also begin in "XL" but end with an S. The trading symbol for PowerShares S&P SmallCap Energy Portfolio, for instance, is XLESaidentical to the SPDR Energy fund's ticker of XLE, plus an S.
Goldman Sachs' plan to spin off its proprietary trading business has run into an unexpected technology glitch that has sent the Wall Street firm scrambling to hire computer programers and project managers.

As reported earlier Thursday by CNBC, Goldman could spin off part of its prop trading operations into an independent hedge fund as soon as Friday. The move is an attempt to comply with new rules limiting Wall Street firms from betting their own money in financial markets.

The problem is that Goldman's traders use a special computer language called "Slang" that was developed for internal use only. That language plays a vital role in Goldman's prop trading, including it's computer driven high-frequency trading.

Goldman has decided the new spin-off won't get the rights to Slang, according to a person familiar with the matter.

As a result, Goldman is rushing to translate its trading programs into a more standard computer code usable by the new spin-off trading company.