Archive for the 'computers' Category
FromAThe C Programming Language, Second Edition, read about it here.
Watch the video here.
When you think about all the code executing in the world at any given time, there's a good chance you're thinking about a lot of code written in C/C++ (aka native code). As Mohsen Agsen mentions so astutely in this impromptu and candid conversation, C++ can be thought of as the dark matter of the developer universe: there is so much of it all around us, hiding in the computational shadows, powering so much of what we take for granted, technologically.
Engineers at the University of California, Berkeley, have found a way to grow nanolasers directly onto a silicon surface, an achievement that could lead to a new class of faster, more efficient microprocessors, as well as to powerful biochemical sensors that use optoelectronic chips.

They describe their work in a paper to be published Feb. 6 in an advanced online issue of the journalANature Photonics.

"Our results impact a broad spectrum of scientific fields, including materials science, transistor technology, laser science, optoelectronics and optical physics," said the study's principal investigator, Connie Chang-Hasnain, UC Berkeley professor of electrical engineering and computer sciences.

The increasing performance demands of electronics have sent researchers in search of better ways to harness the inherent ability of light particles to carry far more data than electrical signals can. Optical interconnects are seen as a solution to overcoming the communications bottleneck within and between computer chips.
Apple and Android tablets are great if you want PC-like functionality in a slim package, but what if you just want an inexpensive device that can take digital notes?AAEnter NoteSlate.

The company's NoteSlate tablet is a simple device that's designed for a single purpose - taking notes.A The device features a spacious 13" eInk screen that takes notes in only one color.A Users write on the screen with the included stylus, and notes can be easily erased by flipping the stylus around and erasing, just like you would with a pencil.

The NoteSlate has a simple 3 button interface for saving or deleting notes, and navigating through pages.A Notes can be saved to an SD card or accessed through the device's USB port.
Posted: February 6th, 2011
at 7:14pm by Koookiecrumbles
Comments: No comments
The idea that we learn by interacting with our environment is probably the first to occur to us when we think about the nature of learning. When an infant plays, waves its arms, or looks about, it has no explicit teacher, but it does have a direct sensorimotor connection to its environment. Exercising this connection produces a wealth of information about cause and effect, about the consequences of actions, and about what to do in order to achieve goals. Throughout our lives, such interactions are undoubtedly a major source of knowledge about our environment and ourselves. Whether we are learning to drive a car or to hold a conversation, we are acutely aware of how our environment responds to what we do, and we seek to influence what happens through our behavior. Learning from interaction is a foundational idea underlying nearly all theories of learning and intelligence.

In this book we explore aAcomputational approach to learning from interaction. Rather than directly theorizing about how people or animals learn, we explore idealized learning situations and evaluate the effectiveness of various learning methods. That is, we adopt the perspective of an artificial intelligence researcher or engineer. We explore designs for machines that are effective in solving learning problems of scientific or economic interest, evaluating the designs through mathematical analysis or computational experiments. The approach we explore, calledAreinforcement learning, is much more focused on goal-directed learning from interaction than are other approaches to machine learning.
We haven't dropped a wallpaper in these parts for a long time, so here ya go.
Posted: February 3rd, 2011
at 1:19am by Koookiecrumbles
Comments: No comments
Sure, the latest "iTouchy" gadgets are pretty cool. But who wants a locked down device?AWhy not build your own touch-screen device, with your own apps, all on open source hardware and using open source tools? OK, it can't play MP3s, but it does have a 320×240 TFT color display with resistive touch screen, an Atmega32u4 8-bit microcontroller, lithium polymer battery charger, backlight control, micro-SD slot, and a triple-axis accelerometer. Yeah, this is the next big thing and for those of us who like to DIY, you can do a lot of cool stuff with this dev board.

This product is just the Microtouch dev board (preloaded with some demo Apps), and does not include a lithium polymer battery or a microSD card. You will need a lipoly battery with 2-pin JST connector for best performance. It can run straight from USB but due to the charger design, the backlight will be dimmed so it will not appear as bright as with a battery installed.AWe strongly suggest our medium lipoly but you can substitute another 3.7V cell.AA microSD card will be handy if you want to display images, slideshows or animations.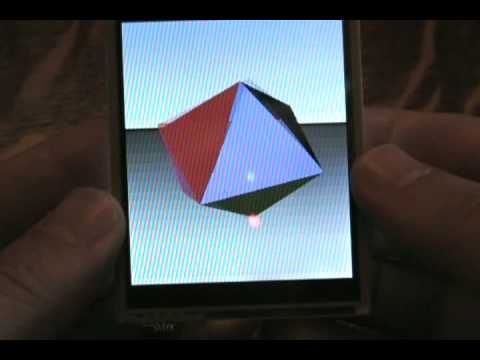 Imagine this problem: you are blindfolded and sat next to a person typing on a standard keyboard. You listen to the person type for 10 minutes. Click-clack, tip-tap. Your task is to learn to recognize what they are typing by the sound of fingertips striking keys. Sounds pretty tricky, but some researchers at Berkeley developed an AI system that can do just that.

How does it work? This is where things get even more impressive. The input to the system is a 10 minute sound recording of a person typing. The algorithm uses this recording to build a model of the sounds generated by certain keys being struck. Amazingly, there is almost no knowledge built into the system from the start. The initial model does not know how many keys there are or where the boundaries between keystrokes are.

Most machine learning systems begin by using data that has been labeled by people - this is called "supervised learning". The Berkeley system doesn't need an annotated dataset. It doesn't even need to know the alphabet being used. To think of the equivalent task being performed by a human, you have to imagine something like a blindfolded Russian listening to someone type English, although even that doesn't go far enough, since Russian and English share some semantic and syntactic linguistic universals that an AI system isn't privy to.
Posted: January 22nd, 2011
at 1:50pm by Koookiecrumbles
Comments: No comments