Archive for the 'computers' Category
Dell announced recently that it's going to be replacing those styrofoam packing blocks in its computer packaging with compostable, mushroom-based packing material. (Source)
It seems like talk of web 3.0 has been going on for millennia…
Apple acquires yet another mapping company, C3, further fueling speculation that it will be replacing Google Maps functionality on iOS devices in the next 12 months.
Above is an example of the capabilities of C3's mapping platform.  Below we have a description of the company and a job posting from Apple.  Check out the original source of this info.
C3 uses modern camera equipment to capture as many as one image per second of the same object from up to 100 different angles. The images are then used to automatically reproduce the shape of the objects with very high accuracy. After that, an image processing software automatically drapes each shape with the texture chosen from the pictures of each object. The same process is being applied for all objects - buildings, houses, trees, and hills - the result is a seamless canvas of 3D-data where the resolution (8 to 12 centimeters per pixel) and quality is consistent over the entire model. This is the secret to C3 maps' realistic look compared to competitors' hand-made and cartoonish appearance …

Come work for the team that revolutionized the mobile technology industry as it continues to define what computing looks like in a post-PC era. The Maps team is looking for a proactive and hardworking software engineer to join our team. Along with excellent skills in object-oriented software design and programming, the successful candidate will have real-world experience developing sophisticated user interfaces. Excellent communication skills are also a must, as you will be collaborating closely with Apple's peerless human interface team to add new and innovative features.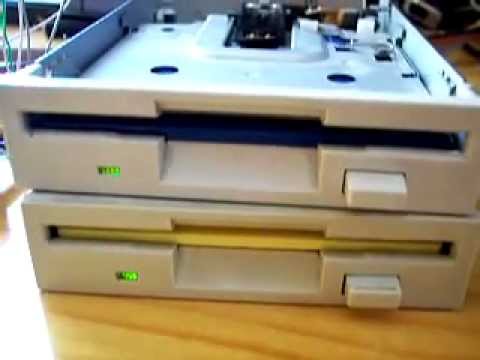 If this doesn't brighten your Monday, I'm not sure what will. Maybe that says more about me.
The sound comes from a magnetic head moved by stepper motor. To make a specific sound, head must be moved with appropriate frequency…

To move the head you need to activate the drive by pulling the DRVSB0 or 1 (depends on the cable you have and the connector - notice the crossover on the FDD ribbon cable) pin low and then falling edge on STEP pin makes the head move one step in direction dependent on DIR pin state.

An ATMega microcontroller is generating those frequencies and it makes the drives play music. #source
Learning an entire undergraduate curriculum for computer science in a year, without taking any classes…
Brian Eno talks about music and technology from 1995.
Posted: September 28th, 2011
at 1:22pm by mnp
Categories: myninjaplease,computers,music,life,art,weaponry,fo' real?,science,"ninja",internets,language,innovation
Comments: No comments