Archive for the 'business' Category
In this installment: you will be able to power your home with the energy you create yourself; you will never need a password again; mind reading is no longer science fiction; the digital divide will cease to exist; and junk mail will become priority mail.
Posted: December 20th, 2011
at 2:13pm by mnp
Categories: computers,life,too good to be true,green,web,cell phones,home,business,whips,robots,mnp is for the children,design,fo' real?,science,"ninja",development,internets,bikes,innovation,cloud
Comments: No comments
Free download from the Three-Toed Sloth, buy the current book, here.
R is the world's most popular programming language for statistical computing. Drug developers use it to evaluate clinical trials and determine which medications are safe and effective; archaeologists use it to sift through mounds of artifacts and track the spread of ancient civilizations; and actuaries use it to assess financial risks and keep economies running smoothly. In The Art of R Programming, veteran author Norman Matloff takes readers on a guided tour of this powerful language, from basic object types and data structures to graphing, parallel processing, and much more. Along the way, readers learn about topics including functional and object-oriented programming, low-level code optimization, and interfacing R with C++ and Python. Whether readers are doing academic research, designing aircraft, or forecasting the weather, R is the tool of choice for statistical application development, and The Art of R Programming is the definitive guide to learning R.
Posted: December 20th, 2011
at 2:00pm by mnp
Categories: computers,business,design,science,boredom killer,"ninja",development,internets,art theory,education,trade,open source,language,innovation,kilobytes,cloud
Comments: 1 comment
NEW YORK — The Mets took out a $40 million loan with Major League Baseball's blessing sometime in the past six weeks, the team confirmed Monday after a report in The New York Times detailed the situation. The Mets still have not paid back the $25 million loan MLB granted them late last year.

A Mets spokesman called the money a "bridge loan," meaning it should help cover operating expenses while the team continues to seek minority investors. (Source)
"Saul Bass. Before I ever met him, before we worked together, he was a legend in my eyes." As introductions go, that's a humdinger and a half, but coming from Martin Scorsese? It doesn't get much better than that, and the iconic director goes on to say that his designs, "found and distilled the poetry of the modern, industrialized world." Saul Bass is such a significant figure it would be hard to begin to do him justice in book form, but this mouthwatering 440-page opus by Saul's daughter Jennifer and Patrick Kirkham is a worthy tribute to both the man and the legend. :Continue reading: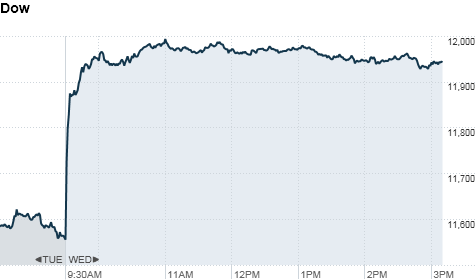 NEW YORK (CNNMoney) — Investors around the world raced to scoop up stocks on Wednesday, after the Federal Reserve said it will work with other central banks to support the global economy.

All three major stock indexes closed the day up more than 4%, but only the Dow managed to move into positive territory for the year and the month.

The central banks' coordinated market intervention gave investors hope that world leaders could take necessary steps to avoid a credit crunch or market paralysis stemming from Europe's sovereign debt crisis.

As a wise man said to me, contrary to conservative beliefs about letting the markets do what they do and ceasing regulation entirely, with even just a hint of confidence investors will suck up stocks like a Hoover. [Link]
Monday, February 13th, 2012 in San Francisco is the 10th SF MusicTech Summit which brings together the music/technology space. An entrepreneurial conference, where a meeting of the minds between culture and commerce will take place. What will be a proactive and conducive to dealmaking like conference, it will definitely be interesting.
Keep up to date with all the happenings by following @sfmusictech !
The current speakers are:
Jack Conte - Pomplamoose, Multi-instrumentalist, Songwriter, and Filmmaker, Nataly Dawn- Pomplamoose, Composer and Lead Vocalist, Ben Parr - Enterpreneur, Journalist / Mashable, (former) Editor-At-Large, Jeff Price - TuneCore - Founder/CEO, Kristin Thomson - Future of Music Coalition - Education Director and Brian Zisk - SF MusicTech Summit, Executive Producer.
Podponics have already built a shipping container food grow system, but now you can help these ninjas build their initial unit. Freight Farms claim that this is a container for really any environment. Replacing food miles and creating local commerce for the urban citizen- 20k to go…
Freight Farms are easy to use systems that increase local fresh food access, create a local food economy, keep money in the community and decrease the carbon footprint of food production.  The system is designed to be largely self sustained with rainwater reclamation and a full filtration system to supply the necessary water. The electrical use is minimized by the system design and high efficiency components and will be powered by electricity from solar panels attached to the top of the freight container.  Solar energy will provide the majority of electricity that is needed while a traditional connection will allow the unit to be plugged in when/if necessary.
Continue reading from the blog of the first issue of Makeshift magazine:
These cases pose an important question: "In the rush to help after a crisis, public and private donors from around the world sometimes give without quite realizing what the needs on the ground are. Do Haitians really need your used yoga mat?
Posted: November 17th, 2011
at 3:19pm by mnp
Categories: myninjaplease,life,art,green,business,weaponry,design,et cetera,diy,development,health,internets,ninjas are everyehere,ethics,entrepreneurship,open source,jobs,innovation
Comments: No comments
Could the informal economy be the route to deliver the big sustainable development ideals such as the Green Economy, Millennium Development Goals and Poverty Reduction Strategies, given that its share is rapidly increasing and that the poor mostly operate here? (Source)
It's unclear whether or not organizing informal economies would boost developing nations or takeaway…
Posted: November 17th, 2011
at 3:15pm by mnp
Categories: life,green,business,mnp is for the children,politricks,grub,"ninja",development,blogs,health,trade,entrepreneurship,innovation,peace
Comments: No comments