Archive for the 'adelaide' tag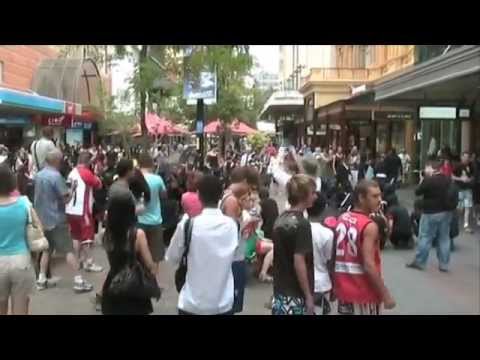 From the purple ninjas to white ninjas there was a true, multicolor Ninja Raid on Adelaide (2009), in flash mob fashion of course..
The last time we went traveling we ended up in Mumbai (seems like ages doesn't it?)- it's now time for a shift in a new direction towards South Australia, or Adelaide to be more specific.
-Need a free bike for hire? Look no further than Critical Mass Adelaide for help
-Finally the bus of dreams has been made! Here's the world's first solar bus or the Tindo Bus funded by The Adelaide City Council- did we mention that it was free?
-Order the "Melting Pot Degustation," a 6 course tour at the properly titled, Melting Pot Restaurant over at the Foodologist: click the link to peruse the food porn
-A chimp that you thought was just being watched is now doing the watching: a 27 year-old chimpanzee, Karta, climbed out to the top of containment after short circuiting her electric fence, but then "changed her mind about escaping" and climbed back into the enclosure. Visit the Adelaide Zoo -Look out for the 11 day Adelaide Film Festival-Virtual tours of the Botanic Gardens, the Glass Footbridge and other highlights of the city here-With summer already coming to a close in this hemisphere, check out Adelaide Fringe 2010, the "other" multi-arts festival of the city
Be sure to attend Wild Law, October 16-28, 2009: Australia's first conference on earth jurisprudence, or natural law (as seen below from Friends of the Earth Adelaide)