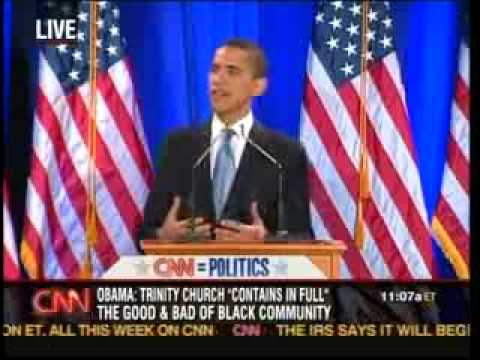 "We the people, in order to form a more perfect union."

Two hundred and twenty one years ago, in a hall that still stands across the street, a group of men gathered and, with these simple words, launched America's improbable experiment in democracy. Farmers and scholars; statesmen and patriots who had traveled across an ocean to escape tyranny and persecution finally made real their declaration of independence at a Philadelphia convention that lasted through the spring of 1787.

The document they produced was eventually signed but ultimately unfinished. It was stained by this nation's original sin of slavery, a question that divided the colonies and brought the convention to a stalemate until the founders chose to allow the slave trade to continue for at least twenty more years, and to leave any final resolution to future generations.
I have already condemned, in unequivocal terms, the statements of Reverend Wright that have caused such controversy. For some, nagging questions remain. Did I know him to be an occasionally fierce critic of American domestic and foreign policy? Of course. Did I ever hear him make remarks that could be considered controversial while I sat in church? Yes. Did I strongly disagree with many of his political views? Absolutely - just as I'm sure many of you have heard remarks from your pastors, priests, or rabbis with which you strongly disagreed.

But the remarks that have caused this recent firestorm weren't simply controversial. They weren't simply a religious leader's effort to speak out against perceived injustice. Instead, they expressed a profoundly distorted view of this country - a view that sees white racism as endemic, and that elevates what is wrong with America above all that we know is right with America; a view that sees the conflicts in the Middle East as rooted primarily in the actions of stalwart allies like Israel, instead of emanating from the perverse and hateful ideologies of radical Islam.
Leave a Reply