Archive for February, 2011
FromAThe C Programming Language, Second Edition, read about it here.
In the recent months, being able to become aware of when I have these world-changing thoughts and being able to stop them in their tracks before they stop me moving forward has been something I've found myself needing to do time and time again. This applies to everything, too - keeping yourAinitial product minimal, going for smaller press before you've built up momentum, or even realising you canAget started without waiting for perfect conditions.

Working with others can help a lot. I've been delighted to have a great pro-active friend join me with my latest venture. However, it is worth noting that if you're working with someone else, one of you needs to stop those thoughts before they take up a lot of time. Inevitably the discussions start, and they're fun, but then comes the time to get working again.

In the end though, no one else is going to do it for you - you need to stop thinking about changing the world, and do the nitty-gritty to get one step further. I'll certainly need to come back to this article to remind myself. (Source)
It is common knowledge that the human brain is horrifically complicated - perhaps the single most complex thing of which humans are aware. I am often asked if we understand how the brain works, often phrased to imply a false dichotomy, a yes-or-no answer. Rather, we understand quite a bit about how the brain is organized, what functions it has and how they work and connect together, and we know quite a bit about brain physiology, biochemistry, and electrical function. But there is also a great deal we do not know - layers of complexity we have not yet sorted out. I would not say that the brain is a "mystery" - but rather that we understandA a lot, but we also have much to discover.

One aspect of brain function that is an active area of investigation is the overall organization of brain systems. Specifically - to what degree is the brain organized into discrete modules or regions that carry out specific functions vs distributed networks that are carrying out those functions? IAhave written about this debate before, concluding that the answer is both. As is often the case in science, when there are two schools of thought, each with compelling evidence in their favor, it often turns out that both schools are correct.

I would summarize our current knowledge (I would not call this a consensus as there is still vigorous debate on this issue, but this is how I put the evidence together) as the brain being comprised of identifiable regions that are specialized for a specific type of information processing. These regions, or modules, connect and communicate with other regions in networks. Some of these networks represent discrete functions themselves, but they may also just be ways for different modules to communicate the results of their processing to other modules. A given module may participate in many networks, although they will tend to cluster around the same theme.
Posted: February 13th, 2011
at 9:43am by Koookiecrumbles
Categories: science
Comments: No comments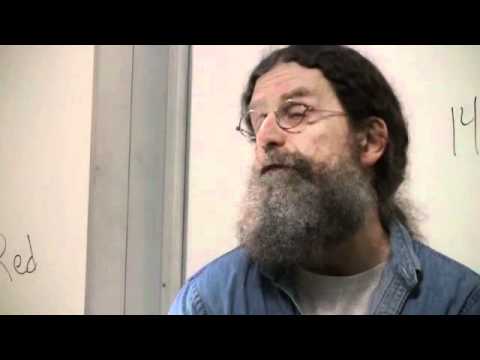 Stanford professor Robert Sapolsky gave the opening lecture of the course entitled Human Behavioral Biology and explains the basic premise of the course and how he aims to avoid categorical thinking.
Posted: February 13th, 2011
at 9:36am by Koookiecrumbles
Comments: No comments
More important than any computer you can ever buy is surrounding yourself with the right people. If you're working from an office cubicle, with all your co-workers just waiting for 5pm so they can go home, you just can't create great software. Same goes if you're stting at home, all by yourself, brooding over the keyboard.
Watch the video here.
When you think about all the code executing in the world at any given time, there's a good chance you're thinking about a lot of code written in C/C++ (aka native code). As Mohsen Agsen mentions so astutely in this impromptu and candid conversation, C++ can be thought of as the dark matter of the developer universe: there is so much of it all around us, hiding in the computational shadows, powering so much of what we take for granted, technologically.
When Gov. Rick Perry challenged the state's public institutions of higher learning this week to develop bachelor's degree programs costing no more than $10,000, including textbooks, Mike McKinney was stumped.

"My answer is I have no idea how," McKinney, chancellor of the Texas A&M University System, told the Senate Finance Committee. "I'm not going to say that it can't be done."

Tuition, fees and books for four years average $31,696 at public universities in Texas, according to the Higher Education Coordinating Board. Sul Ross State University Rio Grande College is the cheapest, at $17,532. (Source)
Most experienced entrepreneurs a or at least most of us around the table that night aAagree that business plan competitions suck. But is there a way to improve them? One CEO in attendance suggested that business plan competitions be revised to focus on the real tools of a VC pitch a that is, a slide deck and in-person presentation. It's certainly a better basis than a business plan, but I don't think it solves the problem. Rather, it still perpetuates a false and harmful archetype of how venture money is raised.

In reality,Araising capital is a long game a a process to be measured across years and companies, not weeks and pitches. The people who "win" the real venture capital game are those entrepreneurs who spend years a if not decades a building their reputation and their relationships with investors. This doesn't mean that first-time entrepreneurs can't raise money, but that they're far better off spending their time setting metrics-driven goals and hitting those goals in order to build trust in the investor community than writing a business plan or shopping a deck.