Archive for the 'trademark & copyright' Category
Patents are at the heart of countless technologies, and that can make life difficult for smaller startups, which are less likely than big companies to be patent-holders themselves. Aiming to create opportunity, innovation and new businesses in southern Sweden, theAMobile Heights Business Center is a partnership between local industry, academia and the public sector that offers approved participants access to a bank of unexplored patents, business ideas and solutions requested by industry.

Anyone can apply for membership with MHBC, which requires an interview and test to prove the applicant's entrepreneurial drive. Once approved, members are presented with a wide variety of as-yet-untapped patents and other business ideas provided by participating members of the telecom industry, including TeliaSonera, Ericsson and The Astonishing Tribe. In "Crash Lab" sessions led by professional business advisors, members can discuss any ideas they may have as a result; once a week, meanwhile, representatives from industry join in to listen and offer advice. Next, entrepreneurs develop a business plan with support from professional legal, HR, PR, marketing and business advisors. When they're ready, they can present that plan at an "Investment Day" open to active investors. Spin-off companies are expected to show a positive cash flow within two years.
There is an interesting ruling [PDF] in a Righthaven copyright infringement case, one of its tidal wave of copyright infringement cases against bloggers in Nevada, Righthaven v. Klerks et al. TechDirt highlights that the ruling indicates that the judge is willing to listen to the defendants' argument that there was an implied license. It's also a case asserting fair use. Anyone blogging would do well to read it, so I have it as text for you.
Last night I printed, signed, scanned, and emailed two signature pages. AAs is my custom of not keeping anything around, I tore up and tossed the sig pages and then deleted the files. AThis morning I woke up to an email saying "We didn't get your signature pages. ACan you please send them." AI just went through the same print, sign, scan, and email process again.
:AContinue reading the entry :
.:grant-thornton.sq1sch.co.uk->
A little-noticed lawsuit says a lot about how investments are marketed. ALate last month, Select Sector SPDR Trust sued Invesco PowerShares for trademark infringement. The suit alleges that by using similar trading symbols, or "tickers," to those of the Select Sector SPDR exchange-traded funds, PowerShares dealt "damage to the value" of its competitor's offerings. AIn April, PowerShares introduced nine sector funds based on components of a Standard & Poor's small-stock index. The SPDR family already had nine sector ETFs of its own pegged to the bigger stocks in the S&P 500 index. Each SPDR sector fund has a ticker beginning in "XL." For its new funds, PowerShares chose tickers that also begin in "XL" but end with an S. The trading symbol for PowerShares S&P SmallCap Energy Portfolio, for instance, is XLESaidentical to the SPDR Energy fund's ticker of XLE, plus an S.
In a recent study of the human genome, it shows how the parts protected by intellectual property resulted in a significant decrease in both scientific research and product development. What do you think?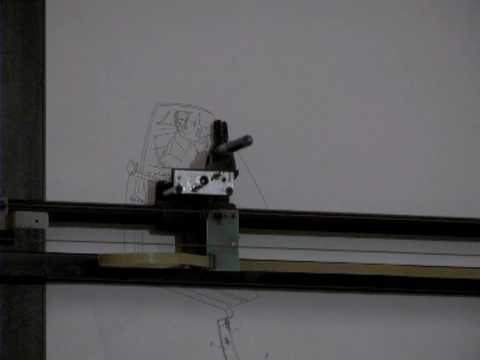 The Perpetual Storytelling Apparatus is a drawing machine illustrating a never-ending story by the use of patent drawings.

The machine translates words of a text into patent drawings. Seven million patents a linked by over 22 million references a form the vocabulary. By using references to earlier patents, it is possible to find paths between arbitrary patents. They form a kind of subtext.

New visual connections and narrative layers emerge through the interweaving of the story with the depiction of technical developments.
Faisal Alsaif hosts a new episode of Up To Date (21.02.2010) dedicated to copyrights and talking about it from all perspectivesAfeaturingAQusai from Jeddah Legends,AEng. Ziad Al Hindi,AEng Raed Al Saeed,ANina Paley,AEidah Saleh Eidah.
At first I had considered him to be as singular as the phoenix of rhetorical praise; after frequenting his pages a bit, I came to think I could recognize his voice, or his practices, in texts from diverse literatures and periods. I shall record a few of these here. -ABorges, 'Kafka and His Precursors'
Posted: June 28th, 2010
at 10:58pm by Koookiecrumbles
Categories: myninjaplease,music,life,art,web,film,photo,design,"ninja",internets,trade,trademark & copyright,open source
Comments: No comments