Archive for the 'walk the earf' Category
Not long before Curious Expeditions came to Eastern Europe to search for the wondrous and macabre, we had the opportunity to travel through Puerto Rico. It was a magical trip filled with rain forests, the gigantic SETI radio telescope in Aricebo, and the landing port of Ponce de Leon. However, one experience shines above the rest. On the island of Vieques, in a dense mangrove swamp is one of the most magical places we has ever had the pleasure to visit.

We had come on a moonless night and the stars shone down as perfect pinpoints. It was a cool summer night when we slipped into the warm, dark water. (Actually I less a€oeslippeda€A and more fell face first out of my kayak into the salty bay.) As we glided into the water, our faces were suddenly bathed in an eerie, otherworldly green. Brilliant plumes of translucent green swirled all about our limbs making us glow. The light wasna€™t coming from above, but was radiating from all around us. From the water itself.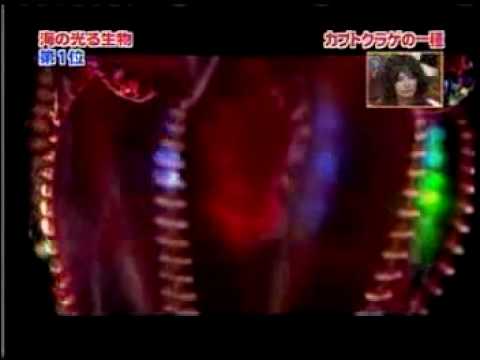 Posted: May 21st, 2008
at 11:25am by Koookiecrumbles
Categories: 10th dan,bling,boredom killer,design,et cetera,fo' real?,home,hood status,life,mnp is for the children,myninjaplease,real life news,robots,science,too good to be true,walk the earf,web,youtube
Comments: No comments
Gun control groups have condemned a new a€oebullet-proof hoodiea€A which claims to protect against street violence.
The A£300 Defender hoodie makes the wearera€™s upper body invincible to every bullet up to a high velocity rifle, its makers claim.
It was developed by Bladerunner, a London based company which also makes stab-proof tops.
Barry Samms, the owner, said that a mother from Walthamstow, East London, had asked for the Defender after her son had been mugged three times.
a€oeOur current customers range from undercover police officers to concerned parents,a€A he said.
But gun control groups said today that the company was practising a€oeexploitation at its most grotesquea€A. They predicted a rise in gang violence, saying children would buy the hoodie as a status symbol.
Raymond Stevenson, a spokesman for Dona€™t Trigger, an international anti-gun campaign based in Brixton, London, said: a€oeIta€™s not helping kids to provide them with bullet-proof armoury. These companies are just encouraging the escalation of the urban warfare.
a€oeIta€™ll give people the false impression that theya€™re protected and will encourage more aggressive behaviour.a€A
The hoodie weighs one kilo, only slightly more than a normal version. It can be bought with the Bladerunner logo a€" but without it there is no indication of its capabilities.
Mr Samms denied his firm was targeting teenage gang members with the invention. a€oeIta€™s only a hoodie because you cana€™t really put a zip across the front of something bullet-proof,a€A he said.
a€oeAdults wear hoodies too. My mum wears one and you dona€™t see her hanging out on street corners.a€A
But Adrian Davies, a partner in the company, admitted that the item could encourage people to become involved in crime.
a€oeWe dona€™t want to be arming gangs,a€A he told Times Online. a€oeBut we cana€™t investigate everyone who places an order.a€A
Mr Davies said that Bladerunner had received more than 100 emails this morning from people asking about the hoodie. a€oeOur websitea€™s had 3000 hits just on that product,a€A he said.
The hoodie is currently in the prototype stage, but will be on sale in the next four to six weeks, Mr Davies said.
Last week Gordon Brown was forced to defend Harriet Harman, the Deputy Labour Party Leader, after she wore body armour to tour her South London constituency. Ms Harman claimed she did so as "a matter of courtesy", and compared it to wearing a hard hat while visiting a building site or a hair net in a meat factory.

Orchidaceae, also called the Orchid family, is the largest family of the flowering plants (Angiospermae). Its name is derived from the genus Orchis.

The structure of the leaves corresponds to the specific habitat of the plant. Species that typically bask in sunlight, or grow on sites which can be occasionally very dry, have thick, leathery leaves and the laminas are covered by a waxy cuticle to retain their necessary water supply. Shade species, on the other hand, have long, thin leaves. [LINK]
Visit the Singapore National Orchid Garden
Huge trees! That's all, ninja.
Coast Redwoods occupy a narrow strip of land approximately 750 km (470 miles) in length and 8-75 km (5-47 miles) in width along the Pacific coast; the elevation range is mostly from 30-750 m, occasionally down to sea level and up to 920 m (about 3,000 feet) (Farjon 2005). They usually grow in the mountains where there is more precipitation from the incoming moisture off the ocean. The tallest and oldest trees are found in deep valleys and gullies, where year-round streams can flow, and fog drip is regular. The trees above the fog layer, above about 700 m, are shorter and smaller due to the drier, windier, and colder conditions. In addition, tanoak, pine and Douglas-fir often crowd out redwoods at these elevations. Few redwoods grow close to the ocean, due to intense salt spray, sand and wind. [LINK]
This is arguably the most glorious and spectacular genus of carnivorous plants. These are the plants that fit so many of our stereotypical visions of what a carnivorous plant should be. Many come from steamy jungles in Southeast Asia, they form enormous vines that clamber up to the trees, and their carnivorous traps are great hungry looking maws that, dammit, look carnivorous. You don't need to understand the technical details of this plant to know that it is dangerous to animals!

Furthermore, as if laboring to fit the image, most Nepenthes plants have requirements that make them suitable only for the horticulturist with a lot of greenhouse space. (We will talk more about cultivation in a bit, and I will highlight some species that are relatively easily grown even without a greenhouse. Relatively…)
Bugged out, pardon the expression. Click the pics for links
For a couple of months (since I became aware of this event), I wondered what exactly the event would be like. All I had to go by was that darn poster and it didn't reveal much. I arrived at Wicker Park around 6:53 or so and began the beginning of the end of the night. Where was I supposed to stand or even team up with? What were the teams?
Having not to have wanted to immerse myself in SF0 just quite yet, my first real task at hand was now on the table.
A welcoming greeting was given by the curator as the fury of speculation and clusters became more evident….then the rules were given out. The cameras blazed and the fountain sparkled. I wondered how in the world the map and blue arm band that were given to me were going to shield me from those that seemed to know more than me. I lay cautious, muddled a few questions and then read the rules. And then stared at the map for a long while. The horn lit and I was out like cake from the oven and frankly ran where everyone else started to run- southeast- hopped the fence and then looked for a team…..
I assimilated immediately and dropped out immediately.. Luckily before reaching the first checkpoint at baker's square I flocked in formation..and then had a tasty vegan cup cake (that had been previously promised for those that ended up at the finish line (chased or not)). Thankfully I had cribbaged amongst two Art Institute students and somehow we evaded those damn chasers. In between the first and the second checkpoint was where our wits were fully checked. We had been cornered in an alley with water cauldrons blocking the only secret exit. I climbed them anyway to only see that the secret exit was just a secret and then camped out under a semi for a couple of minutes. Then we booked flight around the corner and glanced at the chasers from then on out.
We made it to the runway behind the rerouted sixth checkpoint about 4 hours after the game had begun with our completed manifests and rejoiced with more cupcakes and conversation of settlement, along with the other 44 manifesters.
What was buffalo hunting strategy? What should be thought about magnetic rings? How do you do a rested back flip?
There could only be a Runner Trophy and one Chaser Trophy. They were awarded and those of merit, courage and valor nested in admiration.
Thanks to Dax and the SF0 crew for really relaying a great Chicago experience that I will remember for a lifetime. Below you will find some wallpapers that tell stories of that night.
Posted: April 22nd, 2008
at 10:01am by Koookiecrumbles
Categories: design,diy,fo' real?,games,home,life,myninjaplease,photo,real life news,too good to be true,walk the earf
Comments: No comments
[LINK]
The platypus is one of the few mammals to produce venom. The male has a pair of spurs on the hind limbs through which it delivers a cocktail of poisons that, while excruciatingly painful, is not lethal to most animals.
The bizarre appearance of this egg-laying, venomous, duck-billed, beaver-tailed, otter-footed mammal baffled European naturalists when they first encountered it, with some considering it an elaborate fraud. It is one of the few venomous mammals; the male Platypus has a spur on the hind foot that delivers a venom capable of causing severe pain to humans. The unique features of the Platypus make it an important subject in the study of evolutionary biology and a recognizable and iconic symbol of Australia; it has appeared as a mascot at national events and is featured on the reverse of the Australian 20 cent coin.
[LINK]
Boy, those "European naturalists" sure were easily impressed.
…and yes, I DID steal my pictures from Wikipedia.
Sometimes a 700 pixel picture is worth a thousand words.
Elephant seals were named for their large proboscis (nose). In mature males, or bulls, this proboscis starts above the nostrils and hangs down in front of the mouth. This prominent characteristic is thought to be used to create the dominance hierarchies between competing males. However, some researchers believe it may also assist in creating their deep, booming vocalizations, which are a critical component in their society. Male life spans may reach up to 17 years, while females may live up to 22 years. Although female elephant seals only grow to be between 6-10ft (2-3m) long and about 882-1323lbs (400-600kg), mature males can get to be as long as 13-16ft (4-5m) and weigh up to 5071lbs (2300kg)!
[LINK]
"Shaka Zuluu"
These joints kind of remind me of Gonzo from The Muppets… and of my friend Turtleface.
[LINK]

In Inuit legend, the narwhal was created when a woman holding onto a harpoon had been pulled into the ocean and twisted around the harpoon. The submerged woman was wrapped around a beluga whale on the other end of the harpoon, and that is how the narwhal was created.

The truth of the tusk's origin developed gradually during the Age of Exploration, as explorers and naturalists began to visit Arctic regions themselves. In 1555, Olaus Magnus published a drawing of a fish-like creature with a horn on its forehead.
My Ninja, Please! I ain't swimmin' wit ya'll no more!
But the tusked whale is as real as its land equivalent, the unicorn, is a figment of the imagination.

And this beautiful picture, showing a pod of a couple of dozen of the creatures breaching through the sea ice in the Canadian High Arctic, is no fake.

The narwhal (Monodon monoceros), which has been hunted by the Inuit peoples of the Arctic for centuries, is a large species of whale which lives exclusively around the pack ice of the far north.

Resembling a large dolphin, it grows to up to 18ft in length, but its extraordinary spiral tusk - possessed by all males and only very rarely by females - sets it apart from all its large sea mammal cousins.

[LINK]