Archive for the 'science' Category
Back to the philosophy of science, which we'll artificially break down into two schools, the incrementalist and the revolutionary. The incrementalist believes that there are memes which are filtering through society which will eventually manifest themselves. If Newton didn't stand on the shoulders of giants and write down the Calculus, Leibniz would have. Some people are better at collating ideas than others, but if any one genius were hit by a bus tomorrow, then the sciences would continue to advance. The revolutionary theory states that certain geniuses push forward the frontiers single-handedly. If Einstein hadn't worked out the Lorentz equations, nobody else on Earth would have for a long time to come. (Source)
In 2010 installations collapsed- and now the "Wind Explorer" has driven along the coast of Australia for 10 Euros of electricity.
Those who think of the 21st century as a headily unprecedented rush of innovation should pause to consider the first half of the 19th. Between 1800 and 1860, the world gained a giddy array of inventions, including the battery, the electric light, the steam engine, electromagnets, typewriters, sewing machines, dynamos, photography, propellers, revolvers, postage stamps, bicycles and the internal combustion engine. In the book "The Philosophical Breakfast Club", Laura J Snyder deftly recreates this age of marvels through the lives of four remarkable Victorian men. In doing so, she tells a greater tale of the rise of science as a formal discipline, and the triumph of evidence-based methods of inductive reason.
: Continue reading the article :
Among investigators of expertise, it has generally been assumed that the performance of experts improved as a direct function of increases in their knowledge through training and extended experience.  However, recent studies show that there are, at least,  some domains where "experts" perform no better then less trained individuals (cf. outcomes of therapy by clinical psychologists, Dawes, 1994) and that sometimes experts' decisions are no more accurate than beginners' decisions and simple decision aids (Camerer & Johnson, 1991; Bolger & Wright, 1992). Most individuals who start as active professionals or as beginners in a domain change their behavior and increase their performance for a limited time until they reach an acceptable level. Beyond this point, however, further improvements appear to be unpredictable and the number of years of work and leisure experience in a domain is a poor predictor of attained performance (Ericsson & Lehmann, 1996). Hence, continued improvements (changes) in achievement are not automatic consequences of more experience and in those domains where performance consistently increases aspiring experts seek out particular kinds of experience, that is deliberate practice (Ericsson, Krampe & Tesch-Römer, 1993)-activities designed, typically by a teacher, for the sole purpose of effectively improving specific aspects of an individual's performance.
Norman Matloff of the University of California-Davis computer science department on the current serious scientific and technological workforce problem facing the US:
In fact, Matloff went on, the nation is "wasting the innovation" that Americans could create because they are being driven from technical and scientific fields by the influx of foreigners.  "There are a lot of good people who are displaced," he said. In the tech field, this does not occur because of  talent, education, productivity or ability but with age, and ultimately with pay, he stated.  Employers prefer to bring in young foreign workers who are cheaper in preference to employing experienced Americans who are more expensive.  In a number of tech companies, a majority of workers are foreign-born while many Americans being displaced "are of good quality."    Over 20 years ago, he noted, experts predicted that encouraging immigration would discourage citizens from entering these fields.
"It's an issue of money….It's all due to an oversupply of people" created by immigration policies, he said. The issues applies to both the IT industry and scientific research, he added.  One result is that young American "would have to be crazy to go into lab science today," he said.  "No study except for industry studies has ever shown a shortage" of scientific or technical workers, he said.  One indication of non-shortage is that "salaries are flat," whereas in a shortage situation they should rise.
Aza Raskin talks about how the winner of the original X-Prize came to be.
When you are solving a difficult problem re-ask the problem so that your solution helps you learn faster. Find a faster way to fail, recover, and try again. If the problem you are trying to solve involves creating a magnum opus, you are solving the wrong problem.
Ninjas have made made a real talking robot that sounds like a human…
We developed WT-7RII(Waseda Talker No. 7 Refined II) in 2009, which have human-like speech production mechanism. WT-7RII are consisted of the mechanical models of the lung, the vocal cords, the tongue, the jaw, the palate, the velum, the nasal cavity and the lips. These mechanical models are designed based on human and they have same size as adult male of human to have similar acoustic characters. The mechanism have 1 DOF(Degrees Of Freedom) in the lungs, 5 DOF in the vocal cord model, 1 DOF in the jaw model, 7 DOF in the tongue model, 1 DOF in the velum model and 5 DOF in the lips model: the total DOF is 20.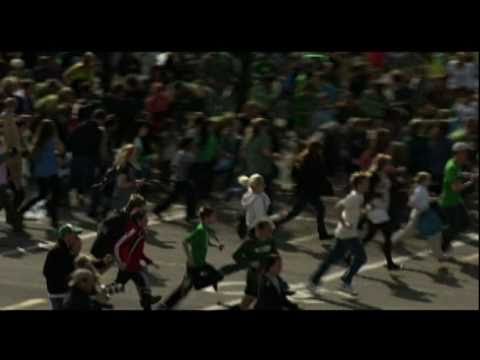 Structures thought of as the oldest known fossils of microbes might actually be microscopic mineral formations not associated with life, suggesting that astrobiologists have to be careful calling alien objects "life" when scientists have trouble telling what is or was alive on Earth. (Source)
Posted: March 19th, 2011
at 11:58am by mnp
Comments: No comments