Archive for the 'green' Category
A recipient of the Queens Award for Enterprise in the Sustainable Development category in 2008, Blue Skies has been a leader in exporting "just-harvested" fruit to Europe from mainly Ghana and they are solely responsible for about 1% of Ghana's entire volume of exports. With their foundation and their 'add value at source' approach- there is a reason that they have an annual turnover of £30 million.
With in 48 hours, Blue Skies works diligently to harvest a range of fruits, such as pineapple, pomegranate, mango, and melon at their optimal maturity. In order to maintain flavor and freshness, Blue Skies' cut and pack the fruit in the country of origin (i.e.- Ghana) and then with alacrity, fly the final product to Europe to be sold in retail outlets. AAll of Blue Skies's products appear to be absent preservatives, additives, artificial colors, stabilizers, and emulsifiers. Consequently, their products have a relatively short shelf life.A(Source)
What's New? covering what's new in tech, this week looks at data fountains. In the hope of displaying implicit financial data, these dudes have come up with a new form of information decoration, in the form of fountains.
In Tuesday night's State of the Union, President Obama reiterated his goal of being the first country to put 1 million electric vehicles on the road by 2015, a plan he first put forth in 2008. And in the day since, the Obama administration started to expand on how it proposes to reach that goal.

Announcing more details of the plan Wednesday was Vice President Joe Biden who visitedAEner1, Inc., a manufacturer of advanced batteries for electric vehicles and energy storage in Greenfield, Indiana. Ener1 added 120 employees in 2010 after receiving a $118-million Department of Energy grant, made possible by the $2.4 billion Recovery Act investment in electric vehicles.

Although likely to receive pushback from some congressional Republicans, Obama's proposal on how the program would be paid for will undoubtedly incite some populist support, perhaps even from newly-elected Tea Party-istas.
Saudi Arabia is on its way to the future of farming; a brand new aeroponic, soil-less, sunless, pesticide-less, low-energy farm was just installed in the town of Jeddah. The farm was created by AeroFarm, a company that manufactures a new type of hydroponic growing unit that uses a recyclable cloth material, instead of soil to anchor plants. The system provides nutrition to plants with air circulation, a nutrient rich mist and an array of low-energy, LED lighting. The farms can grow fresh local produce indoors year-round in cold climates and because of their low-water usage are perfect for desert climates a with soil degradation and climate change becoming a problem around the world these things might come in handy.
Protei is a fleet of Sailing Drones, developed primarily to collect Oil Spills under Open Hardware licensing by Open_Sailing, randomwalks and V2_.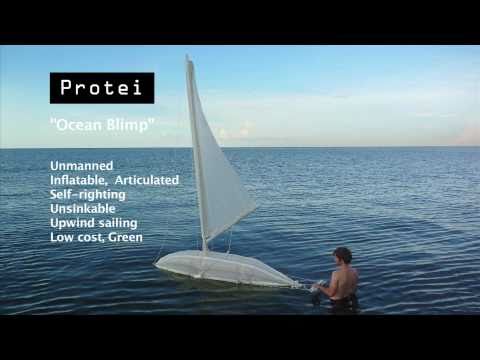 Posted: January 19th, 2011
at 3:42pm by Koookiecrumbles
Comments: No comments
Swedish real estate companyAJernhusen announced they found a way to harness the energy created by the 250,000 daily passersby in Stockholm Central Station. By using the heat that the moving bodies generate, the company accomplished a futuristic project: they managed to heat an office building across the street, decreasing the building's energy bill by 25 %, a large sum of money for a large building. Jernhusen first came up with the idea that could be a step forward in reusable energy three years ago.A The concept behind this breakthrough is that Central Station's ventilation system converts body heat into hot water that heats up the building across the street. Sweden has a deadly combination of cold weather and high gas prices which eventually led to a creative and sustainable solution. "This is old technology being used in a new way. The only difference here is that we've shifted energy between two different buildings", says one of the creators of the system, Klas Johnasson. This project was made possible because a large development real estate firm like Jernhusen owns the land on which Stockholm Central Station and the office building are located, as well as the space in between: "But this doesn't mean that it cannot be done otherwise. It just means that real estate owners have to collaborate with each other", says Klas Johnasson. This great project will surely be passed on from mind to mind until it reaches new heights in helping create a sustainable planet.
As the narrative that China has already won the the race for global domination in the clean energy sector dominates the news, a new study suggests that early reports of the demise of the U.S. solar industry may be greatly exaggerated.

TheAreport (pdf), published this week by GTM Research, showed U.S. net exports totaled $723 million in 2009 with U.S. solar installations creating $2.6 billion in direct value to the U.S. economy. And in the context of the broader economy, U.S. trade in the solar industry was found to be more balanced than the overall economy, which had a trade deficit of $374 billion in 2009.

"The U.S. imports and exports product from every continent. But in addition to being a major net exporter of solar energy products, the industry is creating significant wealth in the United States and jobs in all 50 states," said Rhone Resch, President and CEO of Solar Energy Industry Association, the largest solar industry trade association in the U.S.
Posted: December 18th, 2010
at 12:19am by Koookiecrumbles
Comments: No comments
In leu of the global climate protests this Saturday, African countries are calling for a fast greenhouse gas reduction to 350 parts per million.
As the science gets clearer, more of these poor nations have endorsed a target of limiting greenhouse gasses in the atmosphere to the level of 350 parts per million a the amount of carbon that according to a growing consensus among climate scientists is the most we can have in the atmosphere without causing horrible havoc. Since we're alreadyApast that level, at 387 parts per million, the critical importance of moving back to a safe level also demands much swifter political action than governments have supported in the past a it means, among other things, an aggressive timetable to phase out the use of coalAeverywhere.

Normally, the governments of countries like the Maldives and Ethiopia are ignored in international forums. But this time may be at least a little different, because a huge civil society movement is building around the globe that centers on the same demands. On October 24, the 350.orgAGlobal Day of Climate Action, there will be nearly 200 events in Australia, and over 3,500 events in 163 countries worldwide, bringing those three digits to planetaryAattention.

These 350.org events have the support of a large number of internationally prominent messengers, including the Chairman of the International Panel on Climate Change, Rajendra Pachauri, Archbishop Desmond Tutu and David Suzuki. Al Gore has endorsed the number, and so hasANASA's James Hansen, one of the planet's most respected climate scientists. The list includes many prominent Australians: scientist Tim Flannery, author Robert Drewe, film directors George Miller and Rachel Ward and science commentator RobynAWilliams.